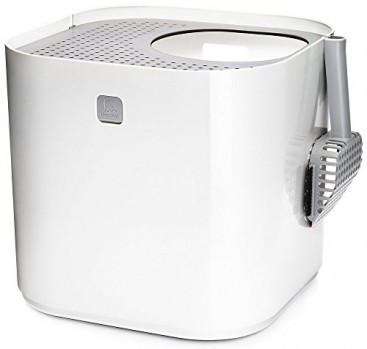 - 33%
Say hello to ModKat.
The award winning modern cat litter box that keeps litter in its place.
Who says a litter box can't embrace form as well as function, work with your décor and provide an unparalleled experience for your cat. Not us. The award winning Modkat Litter Box is the answer. Its modern design complements any room, while the enclosed base and "rooftop access" allows your cat the privacy needed to do his or her business.
Every detail of this patented design has been thoughtfully considered. The locking lid acts as a walk-off mat keeping litter off your floors while keeping small dogs from enjoying the "treats" inside. An ergonomic scoop with incorporated brush stows neatly on the side and the reusable litter liner is friendly to your wallet and the environment.
PREVENTS LITTER TRACKING: The top-entry design nearly eliminates litter tracking. The rooftop-entry lid is hinged to swivel open, dumping any trapped litter back inside, not on your floor.
EASY TO CLEAN: The Modkat Litter Box comes with a free contoured Litter Scoop, which has a brush on it's side to sweep stray litter back into the box. Also included in our litter box is the reusable cat litter liner, designed with handles for effortless removal.
QUALITY DESIGN: The Modkat Litter Box is not another cheap plastic litter box that looks like a rubbermaid bin, this cat litter box is winner of the "2010 Red Dot Design Award" and has been featured in Animal Planet, The NY Times, and The Wall Street Journal.
DOG PROOF: Do you have a dog that is trying to constantly get into your cats litter box? The Modkat Litter Box is stable enough to ensure dogs don't tip over the litter box creating a big mess. Additionally, it locks to prevent dogs from digging inside the box.
FREE SHIPPING & 30 DAY GUARANTEE: The Modkat Litter Box ships for free and has a 30 Day Guarantee. If you are not fully satisfied with your order, you may return your Modkat Litter Box within 30 days. Add the Modkat Litter Box to your cart today!

Frequently Bought Together
This item: Modkat Litter Box - White
Additional information
| | |
| --- | --- |
| Binding | |
| Brand | |
| CatalogNumberList | |
| Color | |
| EAN | |
| EANList | |
| ItemDimensions | 1500, hundredths-inches, 1600, hundredths-inches, 800, hundredths-pounds, 1600, hundredths-inches |
| Label | |
| Manufacturer | |
| Model | |
| MPN | |
| PackageDimensions | 1606, hundredths-inches, 1693, hundredths-inches, 1023, hundredths-pounds, 1669, hundredths-inches |
| PackageQuantity | |
| PartNumber | |
| ProductGroup | |
| ProductTypeName | |
| Publisher | |
| Studio | |
| UPC | |
| UPCList | |
Related Products