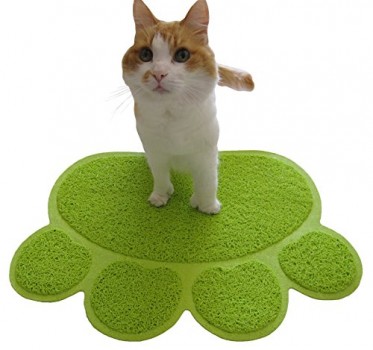 - 31%
Experience The Litter Catching Power Of The Two Meows Cat Litter Mat
You Won't Find A Higher Quality , More Meow Friendly Litter Catching Mat On The Market.
Your search for the perfect large cat litter mat is finally over. When you purchase Two Meows cat litter catcher mat with scatter control today, here's what you should do.
When your colorful cute paw shaped mat from Amazon arrives at your door, carefully open it the first chance you get. Take it out and love all the characteristics that will make this one of the last litter mats you'll ever need to own.
Now place it in front of your litter box, or if your meow has a favorite non-traditional exit from the box place it there. If he/she uses multiple exits use a mat for each side.
Marvel at how effective it is at capturing litter right off your cats paws. Watch your cats enjoyment walking across the soft and squishy material kneading their paws on it and also sleeping on it, stories shared with us by other clients.
What separates Two Meows cat litter mat with scatter control from the competition? It's simple really. It starts by how we selected the perfect high quality premium material to most effectively prevent litter trails throughout your home while keeping your cats happiness in mind. This is what makes up our exclusive TM-7 litter catching system.
The TM-7 technology in the Two Meows mesh design is truly scientific. Others have attempted this type of weave however the results are a stiff mat that can be rough and abrasive on your cat's paws.
4.8 OUT OF 5 STAR RATING: Veterinarians, Animal Shelters And All Of Our Happy Cat Owner Clients Like You Agree That #1 Rated Two Meows Cat Litter Mat Is The BEST And MOST FUN Litter Catching Mat.
SOFTLY CATCHES LITTER: Our TM-7 System Is the Precise Weave And Soft Material That Gently Brushes Your Cats Paws To Virtually Eliminate Litter Scatter Making A SOFT And EFFECTIVE Meow Friendly Cat Litter Box Mat. Don't Be Fooled By Imitations.
LONGER LASTING MATERIAL: We invested In Higher Quality PREMIUM MATERIAL So That Your New Two Meows Cat Litter Catcher Mat Will Last Years Or Several Thousand Meow Flushes. Test Our Litter Trapper Mat Against Other Cat Litter Mats On The Market.
EASIER CLEANING: Easily Shakes Kitty Litter Off Back Into The Box Saving You TIME And MONEY. Litter Goes Back Into Use Instead Of Into Your Carpet, Chairs, Couches, Etc. For Your Company To Later Discover. It's A Favorite Amongst Litter Mats.
100% TWO MEOWS MANUFACTURER WARRANTY: If, for whatever reason, you aren't delighted with your new litter mat with scatter control, just return it. We'll refund every penny (or replace it, if there is a problem). That's the Two Meows Guarantee.

Frequently Bought Together
This item: Two Meows Litter Mat - Green
Related Products