Top 5 Purrfect Cat Trees for Large Cats
For those of us who own big boys and girls, we know far too well how they will try to squeeze into just about anything. There is no cereal box to small or sock draw too narrow for a weasel-wannabe.
That being said – in the cat tree department, size does kinda matter.
Cat trees are made with the idea that your cat can jump from platform to platform or be a lazy creature in a hammock. The last thing you want is a cat tree that goes ? TIIIIMMMMMBBBBERRR? as your cat tries to do his nails on it.
Cats, especially if you own a large cat breed, can grow to be heavy and you want a product that can support your cat while giving them the versatility and fun that comes with the right cat tree.
So what is the right cat tree for large cats? Here's a few things to look out for when buying a cat tree for your bigger cat (bigger is better right ):
Make sure the perches are long enough to accommodate your cat's full body – even when she's stretching.
Make sure that any perches and hammocks on the cat tree is sturdy enough to support the full weight of your cat.
Tall is great since it provides large cats a place to get away from it all, above the commotion of minutiae of everyday living.
Look for durable, secure and sturdy bases that can stay steady when your cat jumps onto and off the tree.
Look for a variety of perches on a cat tree – i.e. flat perches, U-shaped perches so your cat can feel cradled inside, and perches with sides since larger cats like to lean up against sidings to feel more secure when they're high up.
Don't be afraid of unusual shapes and spaces – these can provide the best support sometimes.
Choose a cat tree that has specific characteristics your cat might appreciate. For example, if your cat likes to sleep atop high places, go for a cat tree that has cubby holes for them to hide and sleep. Or if your cat has arthritis or is an older cat, choose a large cat tree that has more walks and stairs to accommodate her.
And in the interest of helping you find the best trees for you your big boys and girls, we've gone and found 5 purrfect cat trees for large cats. Check 'em below!
Molly and Friends Cradle Cat Tree for Large Cats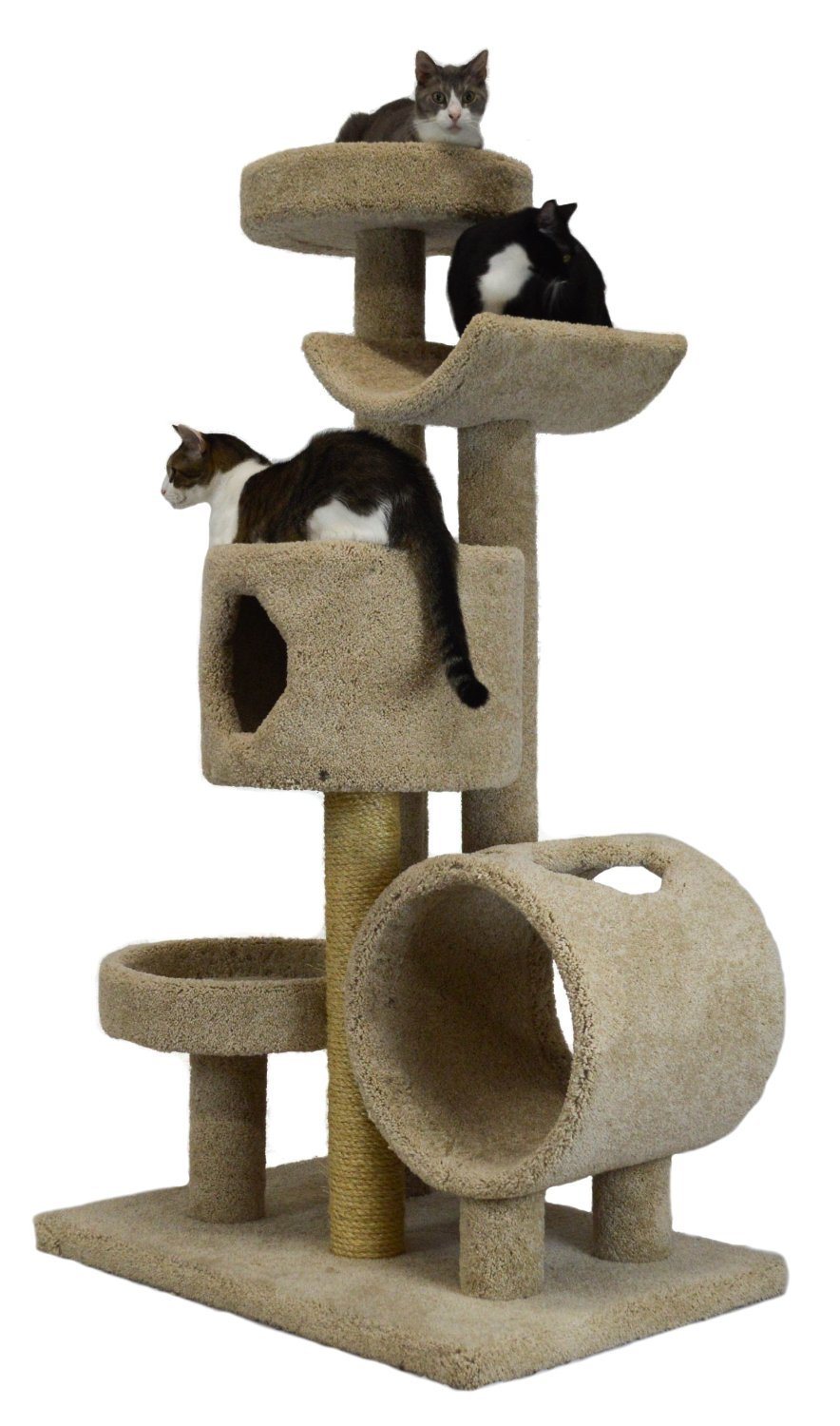 Remember that thing I said about unusual shapes working? Well, this is the perfect example of just that. This cat tree has one tunnel and a half moon resting place on top of the usual platforms. These cat tree stands at 66 inches and each one is handmade.
This really does assure you that each one is tested for stability. This tree is even advertised on websites for Maine Coons and they are monsters (the cute and fluffy kind) so you know it's generously proportioned enough to accommodate the biggest of cats.
Plus, it comes with built-in sisal scratching posts and basically anything a kitty could want besides food – that is still your department, oh human.
Deluxe Cat Playground with Cat-IQ & Rope Toys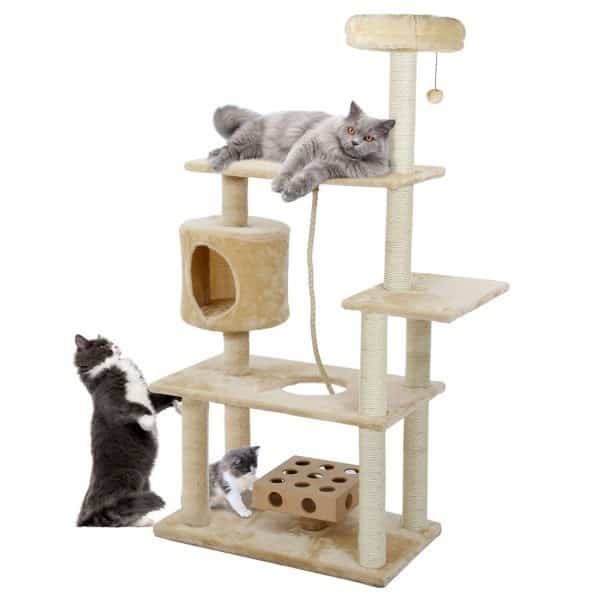 We all knew our kitties were smart, but HUZZAH! now you can test their IQ while giving them somewhere to hang out and be fluffy geniuses.
The Deluxe Cat Playground stands at 55 inches and comes with more extras than fast food. There are dangling puff balls, the IQ box (bells included) as well as the traditional sisal scratching posts.
This cat tree really is the mothership of cat trees for large cats. It is easy to assemble and allows for bigger cats to really enjoy themselves on multiple levels.
The platforms are stable and I think that while BIG in terms of a cat tree it offers a lot in the way of versatility. So, start training the next generation of cat geniuses. After all, it's just a matter of time till they take over the world (insert evil laugh here).
Go Pet Club Giant Cat Tree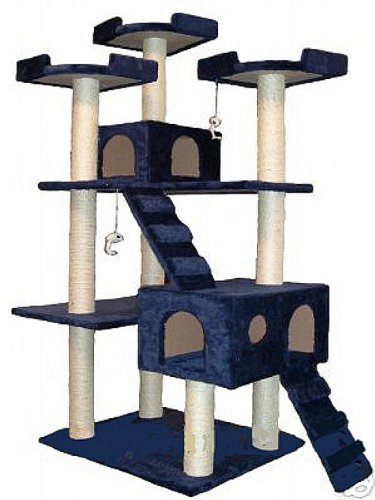 As far as cat trees for large cats go, this one is the cat's meow. What do we love about it? For starters, it's huge and well-proportioned enough to give even the fattest cats enough room to move around and play.
It's also wonderfully versatile – it's got high perches for your cats to relax and stare down at the goings on around them, it's got cubby holes for them to escape for rest and relaxation, it's got sisal scratching posts for endless claw fun, it's got dangling mice to satisfy kitty's hunting instincts, and it's covered in a soft, plushy material so your cats can simply lay out anywhere and get some much-needed rest after all the activity.
We especially love the fact that this cat tree is equipped with stairs, making it an easy-to-access cat tree for large cats who might not be in the best physical condition.
Cat Skyscraper by Molly and Friends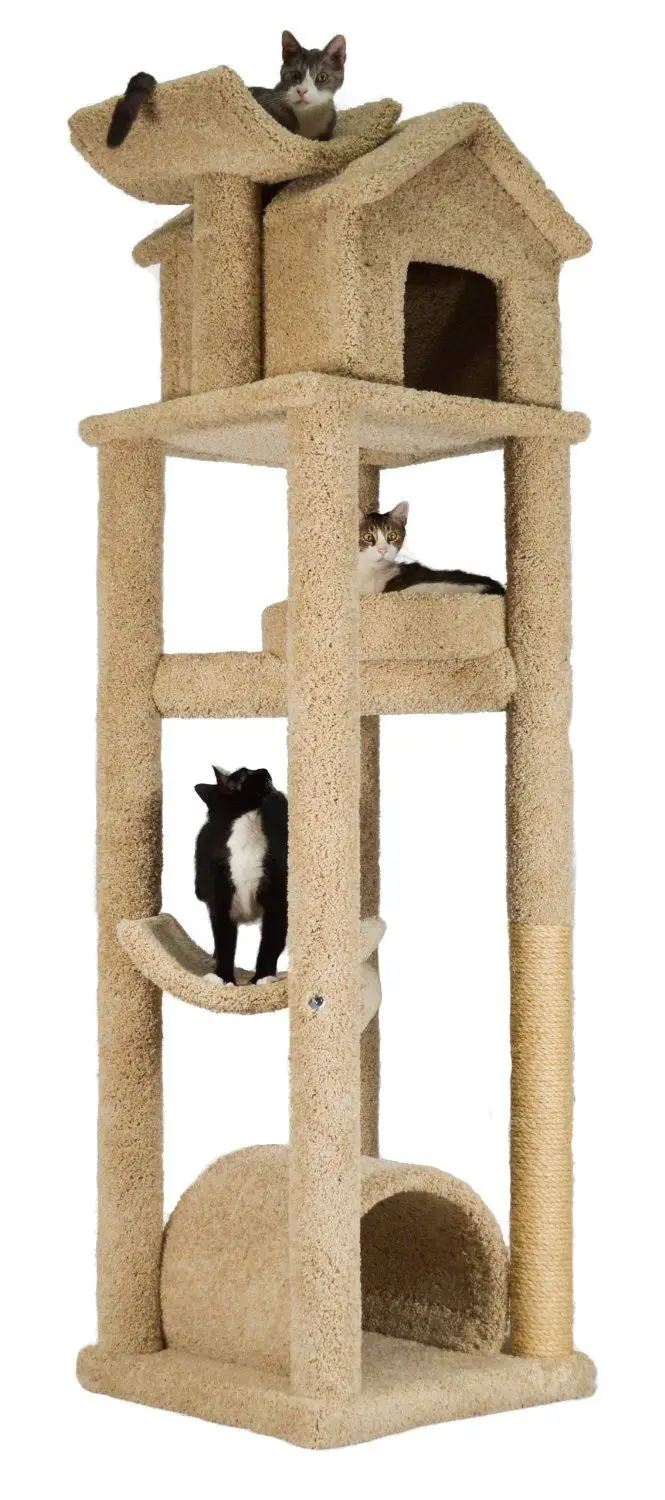 Molly and Friends is a wonderful company that focuses on toys and trees for big cats. This skyscraper could fit straight into New York (well, like a carpeted cat New York). It comes in different colors and stands at a whopping 86 inches, making it a gorgeously tall cat tree capable of satisfying even the most height-obsessed felines.
There are 4 platforms to hang out in and the shapes it offers are varied and are well placed. Bigger cats will enjoy the height as well as the space that this skyscraper allows. It allows for many cats to play so they can recreate the scenes from King Kong.
Catalpha Cat Tree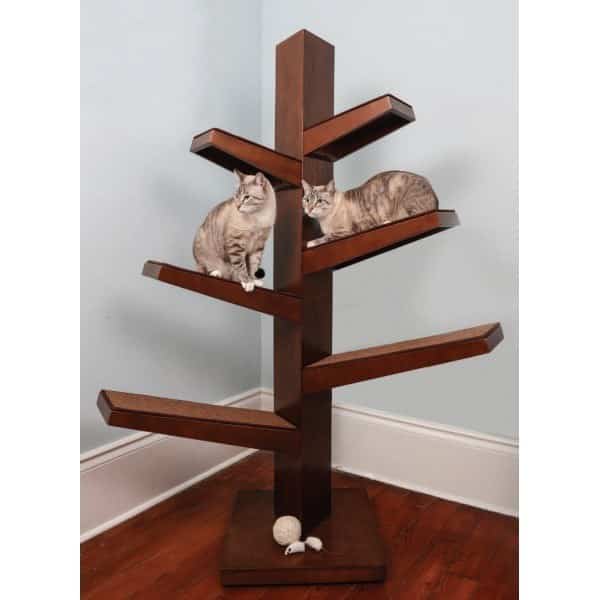 This is style with a side order of kitty class. A unique cat tree that looks like a tree, this unique apparatus aims to move away from the carpeted trees we see everywhere and it pulls it off amazingly.
The Catalpha is just over 6 feet tall and is as sturdy as it looks. The base is strong and secure so you can rest assured that even the heaviest of jumpers won't knock this tree down.
The branches allow for multi-level play and there is no doubt that bigger cats will enjoy lounging around on the long branches. I really like the wooden finish as well. While there is no condo? I think that cats will enjoy the vantage points that this tree offers (so many places to look down on your from).
The Catalpha also fits nicely into any corner, meaning it does not take up a lot of space in any apartment.
Cat trees, like the ones mentioned above, work great for the big cats. They are stable, versatile and above all allow the bigger cats the chance to really let go and jump, explore, and play at various heights while the scratching posts and a variety of shapes keep cats engaged. Try and remember those tips I said when you buy a cat tree, after all, you don't want the tree to fall bringing down with it kitty and all.