7 Coolest Catnip Toys Every Kitty Should Have
Pssst hey you. Want to buy some catnip? I got good quality stuff here.
Ok, so maybe catnip is not illegal and my dreams of selling it from under my jacket to cat owners is not exactly a reality. But, good quality catnip toys are.
Catnip is a plant that contains nepetalactone, a compound that just drives cats loco for that coco. Studies show that even lions will roll over and act like big babies when they are around the stuff.
So there is no doubt that catnip's effects on your cat will be amazing (unless your cat falls in the 20% to 30% of those felines that couldn't give a purr about catnip). And the best way to administer this cat herb to your kitty? Through a wonderfully designed, fun-to-play-with catnip cat toy, of course.
Just make sure that any catnip toy you give to your cat is well sealed or you will have the stuff all over your house. I am sure you cat would not mind but your grandmother may find green herbs lying around your home a little suspicious.
Now that we got that covered, I give you 7 of the coolest catnip toys to fuel your cat's addiction.
Petlinks Refillable Mouse Catnip Toy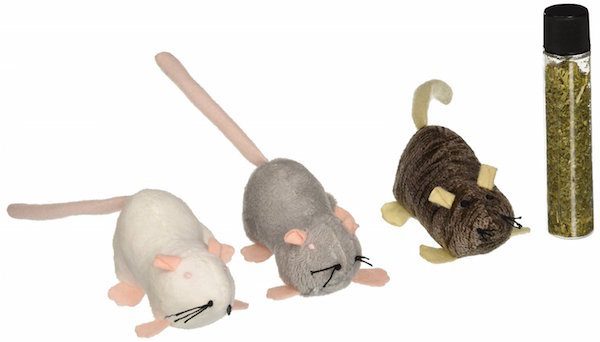 Catnip toys are great and all until the smell wears off and then cats may get bored with them. To remedy that situation, Petlink gives you three refillable mice toys as well as a tube of catnip in order to do refills or top ups.
The toys themselves are just the purrfect size and the mouse look and feel is bound to bring the hunter out of your cat. Either that or the intoxicating smell of catnip.
Cats will go wild for these little-scented mice and with the pack of three you are assured that these will be long lasting toys. Petlink also has a great range of cat-nipped (I just created that word) toys and their refillable quality makes these a MUST HAVE.
Cat Yoga Mat with Catnip Toy
Meowmmmmmm .Greetings oh feline one. Was that too much? Anyway, this toy brings together a few toy elements which I think are pretty fab.
You have the yoga mat aspect that allows for lounging and nail doing, as well as a catnip infused ball for batting.
The ball is tied to the yoga mat making sure that playtime happens on the mat. This kinda looks like some new exercise fad that will be seen in L.A.
It can also be used as a calming mat when you have to give kitty a tablet (we all know the woes) or do a little grooming. This catnip infused area will give your cat the inner peace they have always wanted. Or pass out in a state of bliss.
SmartyKat Cricket Catnip Toy with Sounds
If catnip filled mice ain't doing the trick, then maybe a filled cricket will. SmartyKat has a great range of catnip filled toys that come with sounds.
Prepare yourself for the noise, unless you are ok with a 2am wake-up call via an electronic cricket. This great toy is filled with pure catnip and the realistic sounds are operated by touch. There are a few creatures in the Smarty Kat range but the cricket has to be a favorite. So, if you are ok with hearing a cricket choir every time your cat bats this around then go for it!
Yeowww! Catnip Cigar Toy
The Yeoww! brand gets right to the point. Their toys are FULL of catnip and don't use any fillers. What that means is that this, ladies and gentlemen, is powerful stuff.
In this 3 pack, you get three cigar looking toys that are almost bursting with catnip. The shape allows for easy play and I can just imagine my cats rolling all over one of these.
The cigars? are great for cats to carry around and they can really take a beating before they become ratty. I think it would also be kinda cute to see my cat with a cigar in its mouth. And the fact that this one is filled with catnip rather than tobacco makes it a whole lot better, of course.
Fishing Rod Interactive Catnip Toy
If you are looking for a more interactive toy (aka you wanna play too) then get your fishing boots on and get ready for the lake y'all. This fishing rod comes with a catnip-infused toy at the end of it.
You get a chance to cast the small (15 inches) rod and line out into a room and watch as your cat scrambles to get it. The line is not extremely long but this would work well in any apartment, making it a great interactive cat toy for indoor cats!
SmartyKat KrackleSak Catnip Toy
This has to be a favorite of mine. We all know how cats love trying to fit into places they are too small for. We throw in some catnip and you can be assured that kitty will try even harder.
This Krackle Sack has catnip in the lining which ensures no mess and no stress. The mysterious, crinkly material will keep cats entertained and there is no doubt that the catnip will have them all over this.
SmartyKat toys are all designed with the idea of independent cat play and this toy is no different. A little-feathered bird adds a nice touch to this little baggie of catnip. What's that in your pocket sir? It's my KrackleSak officer. Ok, I really need a hobby.
2-in-1 Cat Dental Treat and Catnip Toy
Looking for catnip toys with benefits? Well, these Asiatic catnip sticks provide just that. These all natural catnip chew sticks act as both a toy as well as a cat dental treat.
They may just look like sticks, but they come with all the benefit of any other toy. I mean, we all know cats will be in love with a wine cork for hours so I have no doubt that these will be a hit. You get 6 catnip sticks in a pack and the natural quality is pretty great. Be prepared for some seriously excited cats, though – these sticks are potent.
Catnip toys are a great way to keep your cat relaxed while engaging with them in some play time. We all know how stressful a cat's life is (insert scoffing noises here) and having a little down time is great.
All of these toys bring together elements of play with the herb and I have no doubt that cats will go crazy for any of the toys.
Just remember that if your cat does not want to play with a catnip toy don't force it, peer pressure ain't cool.