7 Truly Cool Cat Trees Your Kitty Can't Get Enough Of
Step right up ladies and gents! Sit back and observe these truly cool cat trees and the people that pamper their cats with WONDER!
As every feline owner knows, cat trees are an excellent way to give your cat climbing space while adding a piece of furniture to your home. So, you should treat it like any other piece of furniture. It should look good and add a little excitement to your cat's life.
Always make sure that the cat tree can sustain the weight of your cats and that you have secured any mounted cat tree to the wall. You don't want your cat to tumble down, whiskers and all. That will make piss him right off and we all know what happens when kitty is cranky.
So, without further ado, be prepared to be amazed by the coolest cat trees. They come in all different shapes and sizes and there's a design that will suit every home. Roll right up folks! Let's get started 🙂
Contoure Modern Cat Tree Tower
When I first saw this cat tree, I thought I had stumbled upon some cool giant spice rack or something. But nope, the Contoure Cat Tree is a pretty cool looking piece of furniture.
Standing at 68 inches tall this tree is made from 100 % birth plywood which means it's a piece of beautiful wood in itself. The climbing platforms are on the inside of this egg-shaped tree; which is a pretty unique feature. Cats will have fun navigating this tree, and it really does look very stylish, even for an oversized spice rack, I mean modern spice rack.
Handcrafted Floating Sisal Cat Shelves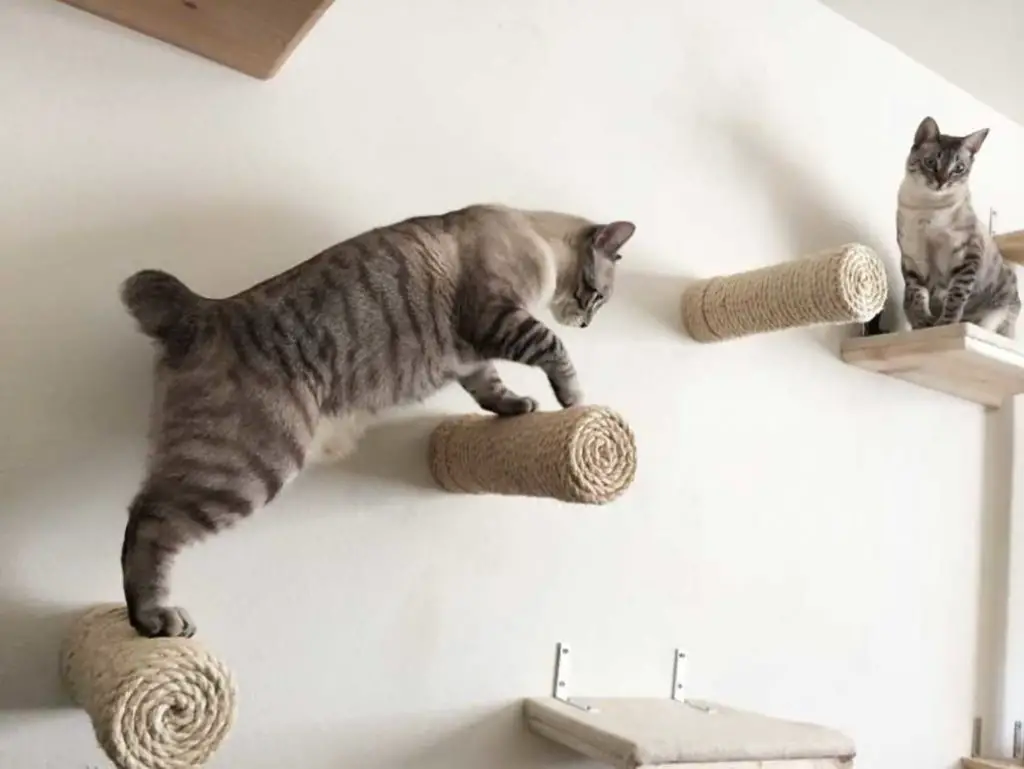 This may look like one of those obstacle courses from Ninja Warrior, but it is indeed a unique cat tree of sorts. Each cat post is sold separately which means that you can integrate these climbing posts to add more height to regular old cat trees or build a whole wall mounted cat climbing obstacle course just from these post steps.
Feel free to get totally creative – you can even provide these posts as a "bridge" between existing cat trees and towers!
Each step can hold up to 16lbs (is that not amazing in itself ) and are easy to install. You can make yourself your very own cat tree and even train your cat to be a circus performer.
MusiCat Cat Tree
Ok, so this may be one of those more crazy? ones, but I think it is just too cute not to have. Shaped like a little band of instruments, this cat tree has it all. The idea for this tree was inspired by Samantha Martin and her traveling cat circus ? Acro-cats .
Each set comes with a drum set, a guitar and a little keyboard. The levels are staggered and so any kitty, musically inclined or not will love this tree. It is a little shorter than some other trees, but the different shapes provide something unique regarding play and stimulation.
Purrwood Forest Kitty Sanctuary
Apart from the adorable name, this cool cat tree has a whole lot going for it. For starters, it's pretty darn huge, providing your kitty with steps galore to climb up and jump onto. At the same time, it doesn't take up much floor space in your living quarters since it's made to line up nicely along a wall without protruding out much.
We especially love how there's an opening on every level of the "tree trunk," allowing every curious cat ample opportunities to explore as well as to hide out and unwind from the stresses of feline life. And if your cat ever makes it to the top of this multi-stepped cat tree, there's a plush, comfy perch for him to lie down and observe his surroundings.
Add to all that the sisal scratching post that's a part of this set up and you get the coolest looking cat tree that your cats won't be able to get enough of.
Lifelike Adult Medium Cat Tree House
At first glance the price of this cat tree may amaze you, but once you get over that you realize what a cool cat tree this is. It looks like the tree house we all wish we had as kids.
The branches are all real, and every silk leaf is crafted by hand. You are paying for skills, and every tree is unique. This tree is made to last a lifetime and at 72 inches there is enough jumping and playing room for multiple cats. Give your cat the tree house of your dreams. Lucky buggers.
KATRIS Cool Cat Tree Blocks
This is my favorite of the lot. Not only does it link the gaming world with that of cats but it allows for a splash of beautiful, classy color.
The Katris (get it Tetris meets Cats) is made up of 5 blocks and ten clips and can double up as a bookshelf or a coffee table. The blocks can be assembled in a multitude of ways which will give your cat a new experience whenever you decide to have some rearranging fun.
The simplicity matched with the modern look makes this one Must Have cool cat tree. Katris is also made from 100 % recycled materials which gives it 100 more points in the amazing cat tree department.
Floor to Ceiling Cat Tower
To the window…to the wall. Um, no. At least not when it comes to the average cat. Most felines can't be bothered to scamper from one end of the house to another, but they're more than willing to go from the floor to the ceiling.
In fact, that's what their wildest feline dreams are made of. And you can make their dream come true with this gigantic cat tree.
Yup, at 95 inches tall, this has to be the godfather of all cat trees. It's actually more of a miniature city than it is a climbing toy. There are two cat condos, hammocks and so many platforms that your cat will feel like King Kong playing amongst the skyscrapers. There is sisal rope, carpets and overall this would be a real statement in any house. It just screams ? I love my cat enough to give them a city.'
So, if you are looking to give your cat all the joys that come with a cat tree and give yourself a rocking piece of furniture, then these cool cat trees are for you. The wall mounted ones allow for versatility and lets your cat pounce around like a ninja. As with any cat toy, make sure that the tree can support your cat's weights and that wall mounted trees are secured.