Size: Medium, 8 to 12 lbs
Energy Level: 3/5
Talkative: 2/5
Coat: Short to long, thick and very silky
Hypoallergenic: No
Seeking: Interactive humans up for adventure!
Child Friendly: Yes
Personality Snapshot: Very clever and sociable, territorial, can master tricks and go on walks, fond of water and quite canine-like
My Looks
I'm aware all felines claim this, but I am actually a striking cat. The sort of cat that inspires curiosity and questions galore. The most popular question posed to the humans I hang out with is hands down "Why doesn't your cat have a tail "

That's 'cause I possess – or rather, don't possess – a physical attribute that makes me stand out among other cat breeds: I lack a tail.
Sure, some of us have a little semblance of a tail that's quite stubby and a couple inches long, but most of us only have very short knobs at the end of our rumps.
This tail-lessness is a distinctive feature that's found only among felines of the Manx lineage.
According to breed standards set by most cat registries, there are actually four different tail types that a Manx cat can possess, namely rumpy, rumpy-riser, stumpy as well as (fun names, huh ).
Of all these varieties, the rumpy is the most popular in the world of cat fancy. A Manx of this type doesn't have a tail at all, but rather a dimple-like formation on its rump.
The rumpy-riser is a bit longer than the rumpy by an inch or so and the stumpy has the appearance of a very short tail. As the name suggests, the longy is the most tail-like of all Manx tail types, being around three to four inches long, but that's still a few inches shorter compared to other breeds.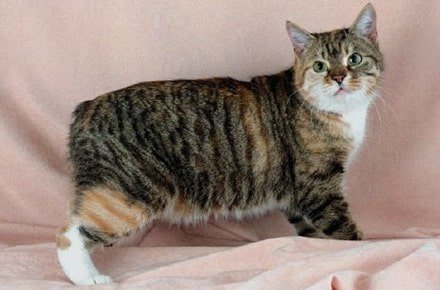 But my tail is not the only notable aspect – the rest of my body is pretty impressive as well.
I possess a healthy, solid physique that's a bit chunkier compared to most cat breeds.
And my muscular build is topped off by a dense double coat that is beautifully thick and silky to the touch.
To top it all off, I sport hind legs that are visibly longer than my front legs, giving me the appearance of being perpetually prepared to pounce.
Which might make me look fierce, if it weren't for the softness of my plump facial features, which lend me an overall friendly appearance that illustrates my personality perfectly.
My Personality
There are many sides to my personality. In general, I'm a laid back cat that's well-known in the feline world for my affectionate and gentle nature. Moreover, I'm sociable and extremely patient, which makes it easy for me to mingle with children or even other pets.
I'm so congenial, in fact, that cat fanciers routinely compare my overall temperament to that of the dog. 'Though, admittedly, that's not the only canine-like thing about me.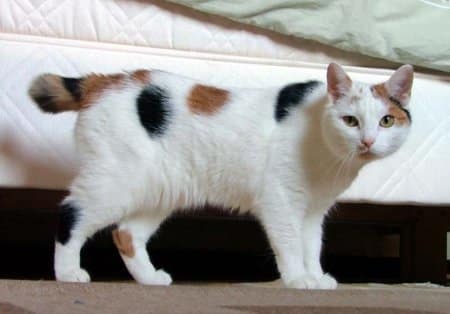 You see, one very notable and not-very-cat-like trait I have is my tendency to assume the position as the household guardian.
I'll emit deep growls when I hear unfamiliar sounds or see unwanted visitors like mice and large insects.
Being extremely protective of my territory, I am even known to confront an intruder if I feel that my home is under threat.
And 'though I'm not hyperactive, I do appreciate vigorous play more than the average feline. I'll even carry my toys around in my mouth to entice my humans to play with me and I won't protest a bit if fitted with a leash and invited on a stroll through the neighborhood with my trusted human companions.
Even giving me a bath is a cinch since I love the water. So unlike most felines, I won't retaliate with my claws when you try to wash me. I'd much rather play with the water or relax anyway.
From all this, you're probably getting the impression that I am no trouble at all. And you're mostly right. I am relaxed, easy going company. I'm even soft-spoken, preferring to only speak up when it's really important, say, when my water and food bowl are running low. So for the most part, I'm fairly low-maintenance.
That being said, I am also a very intelligent cat and this can translate into a little bit of mischief.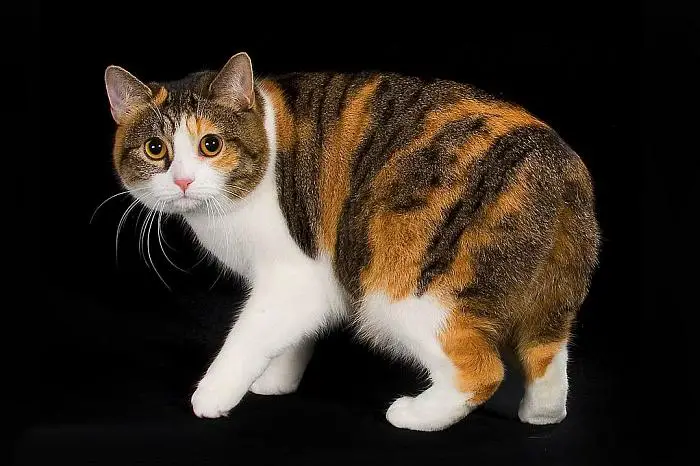 You see, I'm highly dexterous and can learn how to open doors and cabinets with my paws. That means I'll be nosing through your valuables and breakables whenever your back is turned.
Treats, of course, will be among the first things I uncover and treat myself to.
Yes, you're probably going to want to invest in a lock or two.
But my intelligence isn't just a nuisance – my cleverness also means I won't have difficulty mastering tricks. Be consistent in your training and give me some treats and one day you may be successful in getting me to fetch your slippers, maybe.
My Ideal Human
I am ideal for most cat fanciers since I am not as demanding as other breeds. Apart from being patient and affectionate, I am also fairly quiet and won't disturb you in the middle of the night with loud yowls and meows. I am perfect for intermediate enthusiasts looking to upgrade to a more challenging breed, multi-pet households and even homes with young children.
However, because of my need for interactive play, I may not be the best choice for people looking for more relaxed company.
Oh, and as I mentioned earlier – I can be a bit nosy and shameless about ruffling through your cabinets, bookshelves and even closed doors. It's very important to lock your bedroom door if you don't want me to burst in all of a sudden. Same thing goes for stuff that you don't want me to get my paws on.
My Roots
My breed is surrounded by stories and folklore galore. For example, everyone knows where my breed comes from. There's a little island located in the Irish Sea between Ireland and England called Isle of Man, where my ancestors have been thriving for several centuries.
But nobody really knows how we got there. Locals say that we are the descendants of cats that were on a Spanish vessel which was wrecked during a storm in the early 16th century. Some say that we're the offspring of felines brought along by Vikings and escaped when they stopped to restock for supplies on the island. Some even say that my forebears came all the way from Japan aboard Phoenician ships.
Despite all these legends, nobody knows for sure how my breed originated.
There are also a number of myths that try to explain how we Manx cats lost our tails. One story tells of a group of cats that took their sweet time when boarding Noah's ark and got their tails snagged as the door closed.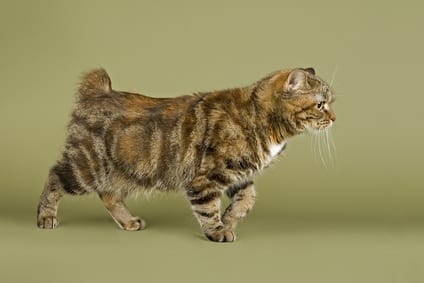 Another tale speculates that mama cats that gave birth to a litter deliberately bit off their kittens' tails to prevent them from getting stolen by barbarians who used them as lucky charms.
There's even one ridiculous story that a rabbit mated with a cat and the Manx was the result of the unnatural pairing.
But as entertaining as these tale tails are, there is a more scientific explanation for my lack of a tail.
Cat geneticists agree that once upon a time, we originally had standard-sized tails but over time, our tails became extremely short to the point of being non-existent due to a genetic mutation.
I prefer the Noah's Ark tale, myself, as it sort of illustrates our laid-back nature.
Anyway, let's fast forward to the modern age and how we became a global phenomenon. Even back in the day, we were already considered popular pets across England and Ireland as well as their neighboring areas. King Edward VIII was said to have several Manx cats and even entered them in cat shows. In 1901, the very first Manx club was established in Britain.
As for how we got North America, that remains uncertain. All we know is that we did and we were officially recognized by the Cat Fanciers Association (CFA) as early as 1920.
Well, most of us did, anyhow. Remarkably, only cats of my breed having the rumpy and rumpy-riser tail types are eligible for cat shows these days. Just FYI, in case you're into that.
How to Keep Me Healthy and Happy
Now while I may look robust and healthy, I am rather vulnerable to a few health problems, particularly bladder and bowel control issues, because of my shortened spine. Some cats of my breed can also develop weakened hind legs over time because their nerves tend to get pinched due to the same.
My thick coat also requires regular grooming because it can easily get matted if neglected. A meticulous brushing every three to four days should do the trick. My human companions should also keep an eye on my coat during the shedding season since it can get extra knotted at this time.
Lastly, please do not make it a habit to poke or pinch the area where my tail should have been. Apart from causing me a lot of pain, this can also lead to injury since this part of my spine doesn't have the same amount of protection compared to other cats. My humans should always support my hind quarters when carrying me to prevent the same.
Fun Facts
Love the tail-less look but prefer long hair? The Cymric is the long-haired variety of the Manx.
I'm as affectionate as they come. Oh, and curious too. So don't be surprised if I follow you around the house and even jump in bed with you.
We're a quiet sort of breed. We're so soft-spoken in fact, that the females rarely caterwaul even when in heat.