Writing is hard. Getting published is even harder…unless you are a cat.
Yes, you read that right, cats have beaten me to something yet again. The tree climbing incident does not count. Thanks a lot furry wonders, now my mum has another reason to love her cat more than me.
Anyway, behold 6 books written by cats (and not by me). All these books hand out Kibble size bits of wisdom and a whole lot of laughs in true feline style.
I Could Pee on This: And Other Poems by Cats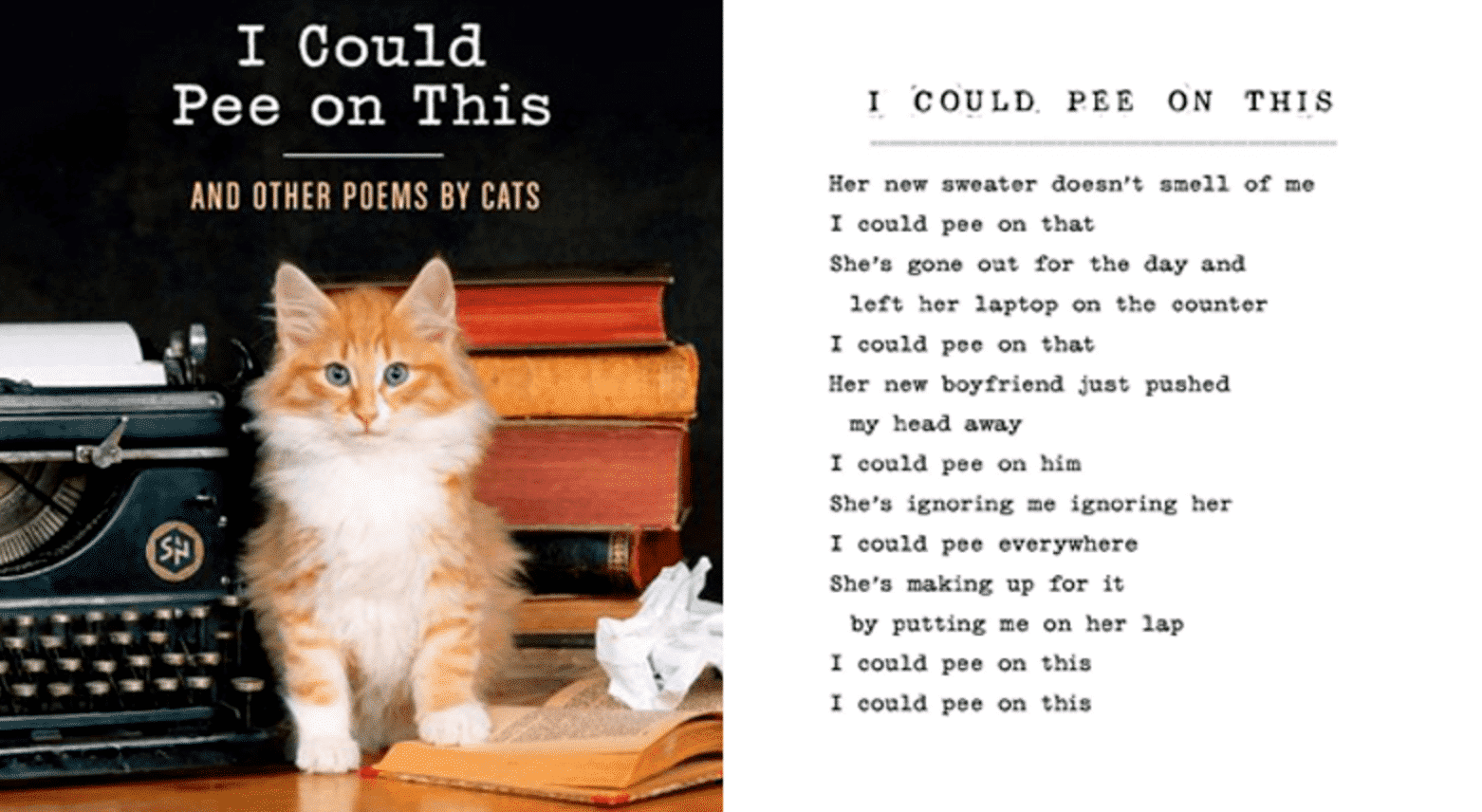 Shakespeare step aside this anthology of cat poems will have you in stitches. With poems like I Lick Your Nose and Elegy for a Toy I Broke? there is no topic too tough? for these poets.
I Could Pee on This combines pictures of the fluffy poets and their best works. It is a best seller and has been charming readers since it was published in 2012. I am pretty sure my cat would write a hate poem about her enemy; the electric kettle. You can purchase the book on Amazon by clicking here.
Cat Confessions: A "Kitty Come Clean" Tell-All Book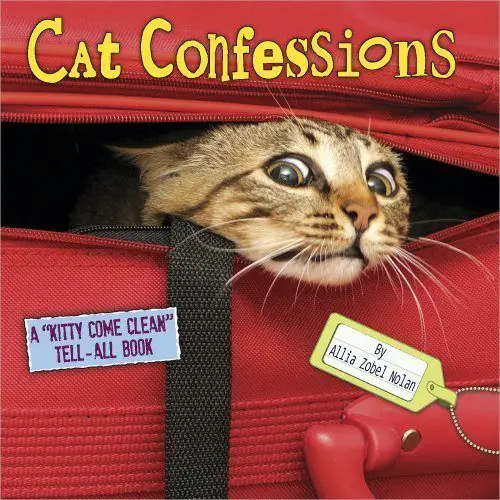 Cats are naughty, this is not news to us, but cats confessing to their crimes is. Cat Confessions pairs pictures of the delinquents caught in the act with their confessions. It's like the cutest collection of mugshots you ever did see.
The confessions are short and this book reads more like a picture book. It is light hearted and really makes you giggle as you recognize the behavior in your own cats. You can purchase the book on Amazon by clicking here.
Sorry I Barfed on Your Bed (and Other Heartwarming Letters from Kitty)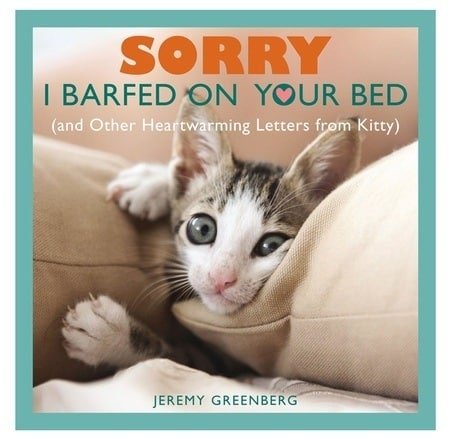 This is one of those books that make you want to pick up the nearest cat and whisper you are forgiven."
Sorry, I Barfed on Your Bed combines pictures and letters from cats to their humans. There are letters of apology, confessions, and a few teenage rants.
The book is a quick read and each letter is signed off by a different cat (picture included). The Dear Soon to be floor mopper sounds awfully familiarly and I am sure that you will find some that will resonate with you. You can purchase the book on Amazon by clicking here.
My Litter Box Was Dirty…So I Left You a Present in Your Shoe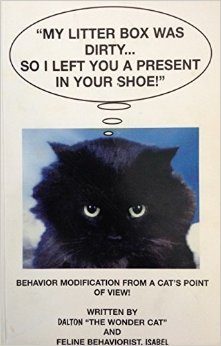 My Litter Box was Dirty is written by a part Himalayan part Angora cat named Dalton. He is a great Kung-fu master and we are simply his pupils.
Dalton gives us a funny but also clever little ways of looking at cat training. He shows us how to: introduce a new pet into HIS home, how and where to put HIS litter box and why we should give up on trying to make him sit.
Overall, this book is like an HOW TO FOR DUMMIES with us as the dummies, as usual. You can purchase on Amazon by clicking here.
Texts from Mittens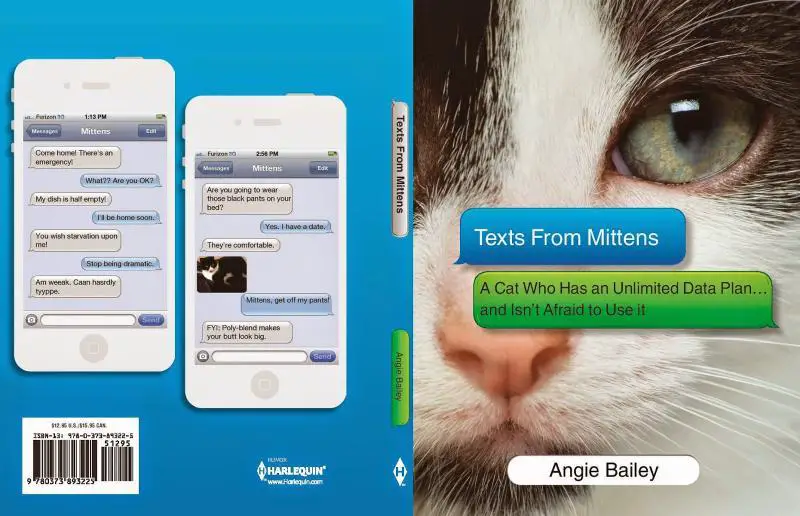 Mittens, a snappy housecat has started texting: nothing and no one is safe. Texts from Mittens is a hilarious book filled with phone texts from Mittens to her owner.
There are texts about dying? of starvation to the vindictive I am sitting on your black pants lol? texts. Mittens are perceptive and the banter between her and her owner is realistic and well done. This is a book for any cat lover. You can purchase on Amazon by clicking here.
The Silent Miaow: A Manual for Kittens, Strays, and Homeless Cats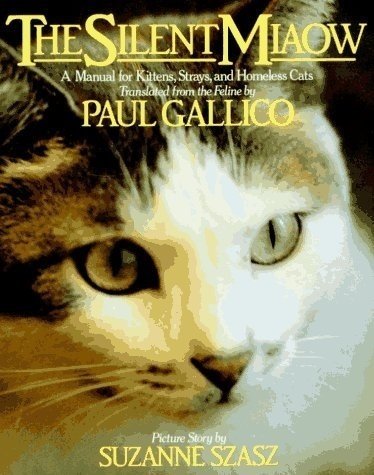 This is a classic. And by classic I mean the cat wrote this out on a typewriter back in 1985. The Silent Miaow is a hand guide for other cats on how to manipulate humans.
This is like the Da Vinci Code for us cat owners; we can see the truth now. The book is eccentric and has the feline author handing out helpful hints to strays on how to get adopted. My fellow humans, we are being duped. Purchase this fine read on Amazon by clicking here.
So, if you are looking for a gift or just want to understand (good luck in trying) your cats better then these books are great. They are funny and have enough heart to make you forgive your cat for its transgressions or save a stray without knowing why. What lies, we all know why – cats are the best.