5 Awesome Cat Trees That Look like Trees
Too bad we can't give our cats the jungle they dream of all day long. But wait! Who needs a dream jungle when you can have one right in the comfort of your living room
Cat trees are nothing new but cat trees that look like real, actual trees? Now that's not something most cats can boast about.
These gorgeous tree-like cat trees ones not only add a little nature to your home but will keep Mitten's nails healthy and body limber. There are many sizes, styles and makes, allowing you to find something that fits your aesthetic as well as your cat's needs.
They will be a bonfire panther in no time. Rawww! Okay, that was a bit much, but enough of that – I know bring you the most tree-like cat trees on the market.
Cat Condo in the Clouds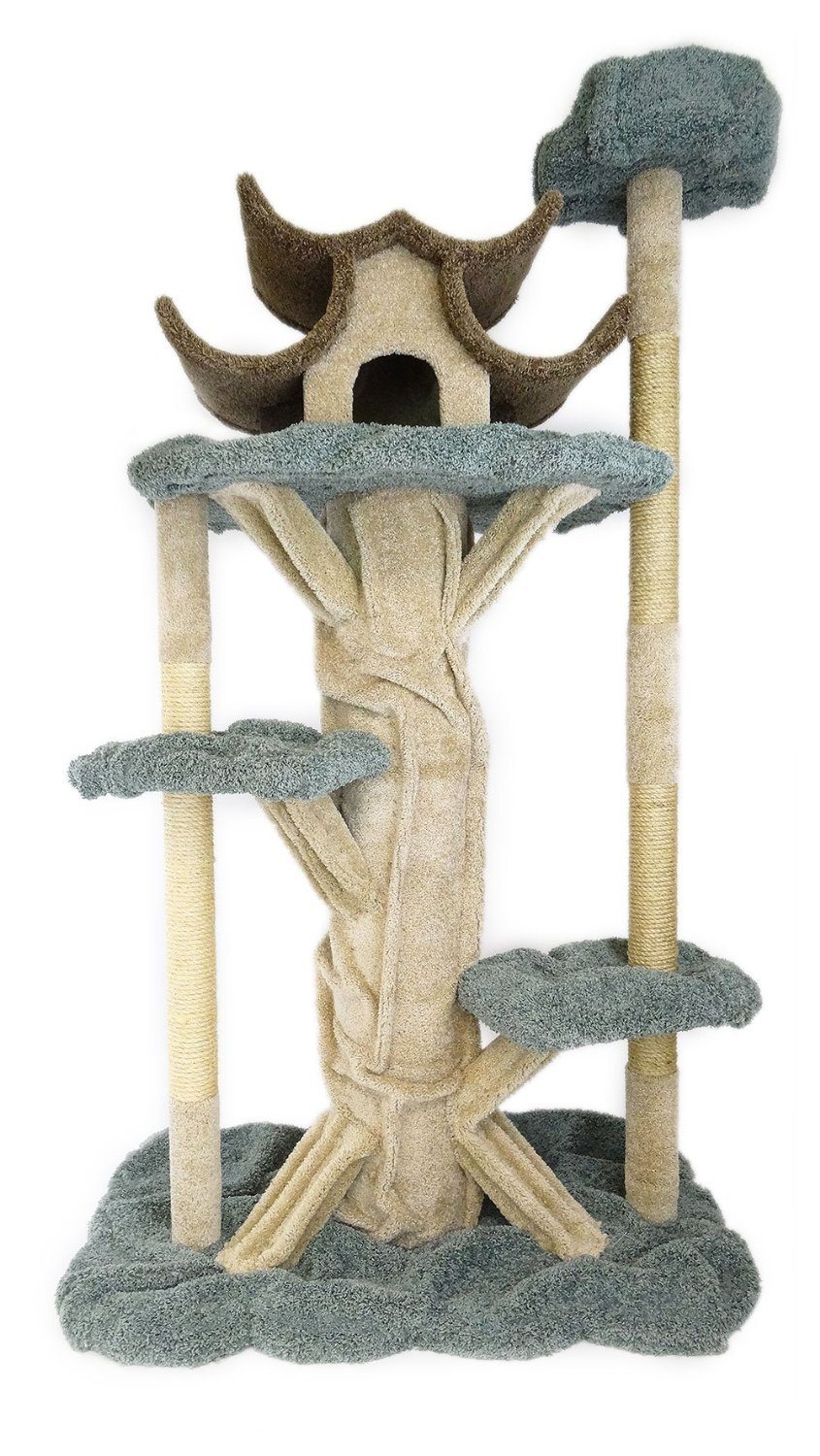 If you want to bring some Zen into your cat's life then search no longer lost soul. This tree comes with a pagoda-style home which acts as great meditation space as well as four staggered tree tops for climbing.
At 7 feet tall your cat will be towering above you , watching always watching. Made from real wood, sisal rope and plush carpets, this tree will look great in any living space.
Get prepared to be enlightened and even if it is carpeted it does look pretty realistic.
Statuesque Corner Cat Tree
Let's be real, cat lovers – as much as our cats would love to dictate the entire layout and decor of our homes, not all cat-satisfying home decor is great to look at.
Well, this cat tree is a gorgeous exception. Standing at a little over 4 feet high, it's tall enough to satisfy your cat's need for heights. It's also composed of high quality wood and cozy carpet, making it a seriously durable cat tree for even the rowdiest of kitties.
And you can tell by looking at it that it's no eyesore. On the contrary, this cat tree is a stunning addition to any room.
Mushroom Tree with Tub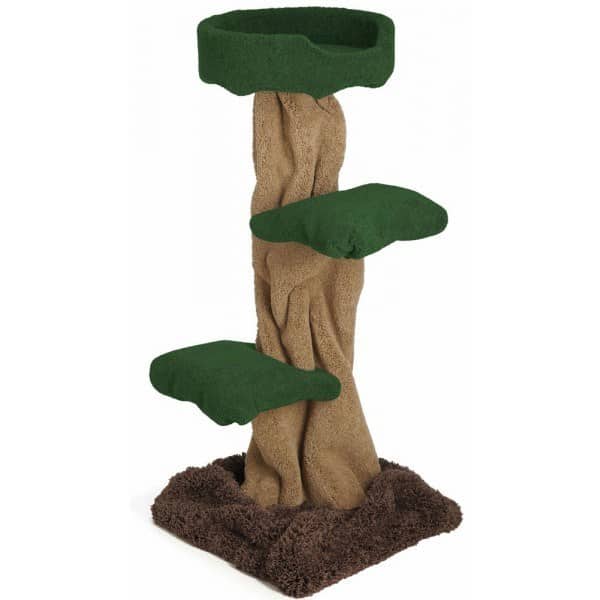 This little tree is simple but no less effective for the little climbers. It has a top open tub which can snugly fit smaller cats. But, we all know that does not stop our big boys from trying.
You can order the tree at 30 ? ( one tub and one shelf) or a 46 ? ( one tub and two shelves) and is made from really good wood and is pretty stable all around. What I like about this shape and height is that it fits nicely into any space and is not assuming.
Silk Plants Multi-Level Pine Cat Tree House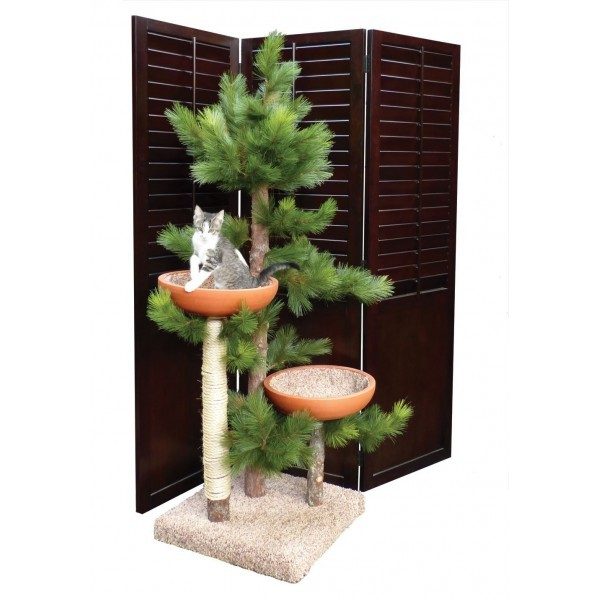 If Zen and simplistic is not your cup of tea well say hello to rustic charm. There are a few tree-like cat trees in this silk plant range and I think the realistic leaves add a great feel to the tree.
This cat tree in particular is multi-leveled and really is all about looking as real as possible. It has sisal, real pine wood and overall just fits perfectly into any apartment. There are a few heights and styles to choose from and the leaves (which are individually stuck on) allow you to make a real jungle in that unused corner of the living room.
Sappling Lifelike Small Cat Tree House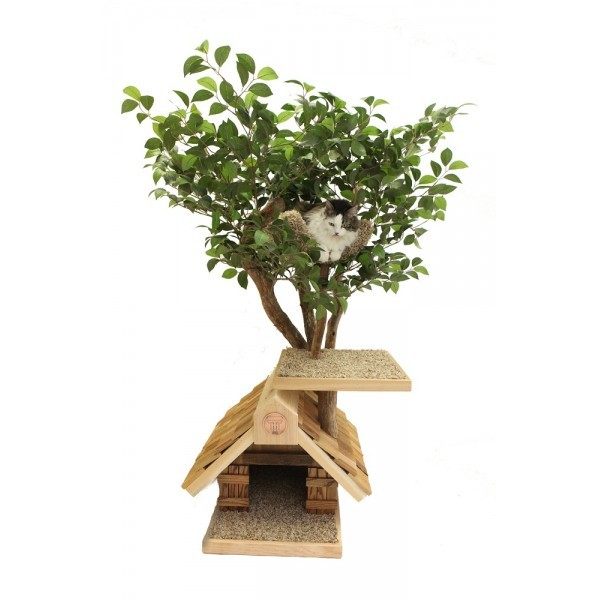 Can I just have a second to squeal? This really is the cutest cat tree house a cat could ever ask for. The tree towers over a little wooden house which, at a special request, you can even have your cat's name engraved into a little medallion!
Each tree is handmade and comes fully assembled. The tree is totally real, making for a great scratching post, and the leaves are made from silk. It's basically the cat tree house that feline dreams are made of. Plus, the only shedding to worry about is your cats.' This one is really a great one and I want it. Santa, please take note.
So, if you are looking to bring a cat tree into your home – why settle for a run-of-the-mill cat tree when you can have one that actually looks like a real tree!
These really are the best of both worlds. You get a little greenery and kitty gets somewhere to climb and claw at while imagining she's a big cat roaming the depths of a deep forest. All these trees stand pretty tall and getting a few of them would let you recreate some epic Jungle Book scenes. Can a girl dream